About Phronesiz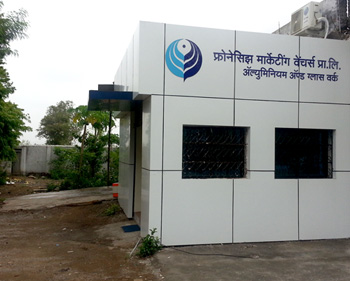 Phronesiz Facade Solutions is a Division of Phronesiz Marketing Ventures Pvt.Ltd. Is one of the leading manufacturers of Architectural Aluminum products.Comapny is holding an experience and expertise of at least a decade in Glass Glazing and Aluminum extrusion industry for aluminum fabrication and extrusion provides the best of Glass and Glazing services in the market.Our extensive design, color offer, large glass surface possible, high insulation capacity has always provided maintenance friendly and extremely reliable systems.

We have a fundamental knowledge of architectural glazing in modern day architecture. Company was started with the fundamentals of rich research, dedicated customer service and cost competitive solutions. We have core idea of our serviceand its place in the market. Phronesiz façade solution is a Aurangabad based solution provider for STRUCTURAL GLAZING, Curtain wall Glazing using double/ single Glazed glass including fully unitized curtain walling, ALUMINIUM COMPOSITE PANELS, ALUMINIUM FINS, SUN BREAKERS, LOUVERS, Double Glazed/ Single Glazed Operable/ Sliding Doors and Windows , uPVC Windows and DOORS, PARTITIONS to, commercial, and industrial clients

Phronesiz Facade Solutions has been involved in numerous projects which have been pioneering projects in this field.

Projects executed and ongoing are spread across the following segments:
• Residential
• Corporate
• Hospitality
• Retail
• Infrastructure

he company has a good mix of projects, diversified both sect orally and geographically.
To name a few – Bharti Walmart(Air tel Group), Mega Mall, Hotel Royal Palace, Venkatesh Eye Hospital, Hotel Abbas, Alka Sadi, KFC Aurangabad, Hotel Marawadwala, Hotel Krishna Inn, Hotel Sameeksha, Pune, The Lake District, PRA Project(Vascon Enginbeers)Pune, Jai Tulja Industries, Shendra MIDC, Wackhardt Biotech Park, Wackhardt R & D Center, Chikalthana, Khadaki, Aurangabad, Shree Ganesh Mandir, Lasur, Tirupati Hospital, Deulgaonraja, Sai Hospital, Waluj, Joshi Hospital, Ambad and many others.

Phronesiz Facade Solutions was started by Mr. Vikas Kunte (B.E.M.B.A.). Mr.Kunte brings with him 10 years of experience in this field. We have the in-house capability to design new dies for extrusions. Our design engineers hold design qualifications and a minimum 10 years experience in the façade industry. They are provided with training in the Construction design and are fully aware of their design responsibilities and roles. Company's Head Office is located in Phronesiz Aluminium & Glass(A Division of) Phronesiz Marketing Ventures Pvt.Ltd. F-24, Brijwadi Road, MIDC Chikalthana, Beside Taramati Bafana Andh Vidhyalaya, ,Aurangabad where designing, planning and procurement team is based. Manufacturing is carried out at Aurangabad.

At Phronesiz Façade Solutions, we are committed to client's needs. Value engineering, Quality Control and Timely completion are our strengths and have resulted in repeated clients in the industry. To learn, evolve and offer the best products, technologies and expertise to our clients is our passion.We are looking forward to be part of your team and assisting you in your upcoming projects.